Nevada Bighorn Sheep Hunting Guide & Outfitter
If you are lucky, a Nevada bighorn sheep tag comes along once in a lifetime. In order to make the most of this very coveted tag, it is highly recommended that you hire a good outfitter. We've had 100% success on our sheep hunts in Nevada and California. We are one of very few outfitters that can say we have never had an unsuccessful sheep hunter and our clients consistently take some of the biggest rams in the state. We are licensed statewide in Nevada for desert (Nelson) bighorn sheep and California bighorn sheep. We scout extensively prior to your arrival in order to ensure the quality of your hunt because we truly believe that time spent scouting is the most important component of an exceptional bighorn sheep hunt. We believe our scouting, hard work, and knowledge of the country is what sets us apart from other outfitters and our track record speaks for itself. Our clients take some of the biggest rams in the state year in and year out.
In 2010 our client Phil Norkey took a 175 4/8 desert ram in unit 271, the Mormon Mountains, and it's the biggest ram to come out of there in 20 years and maybe the biggest ever. Also in 2010 one of our clients, Walt Palmer, took a 165 California bighorn in Nevada in unit 032, the Pine Forest Range, with a bow that is the state record for an archer. In 2014 our client Parks Shackelford took the 3rd biggest desert ram ever taken in the state of Nevada at 184 5/8 in unit 268, the Muddy Mountains. In 2015 our client John Dickerson took a 167 California bighorn in Nevada in unit 031 that was the biggest Governor's or Heritage tag ram taken since 2008. In 2015 Tom Gordon took the biggest ram ever taken in units 044, 182, the Stillwater Mountains. As you can see our clients consistently take great rams. While taking a great ram is always our goal, the most important thing is to make your sheep hunt the once in a lifetime experience it should be and a hunt you will never forget and we will do just that.
These sheep hunts are spot and stalk with an emphasis on glassing. With our glassing skills and using the best optics available, Kowa, Swarovski, Docter and Leica, we are able to spot bighorn sheep that a lot of other hunters don't. We customize your hunt around your needs and physical ability. These hunts can be physically demanding in very rugged terrain, but can be one of the most rewarding hunts of your life and we want to be a part of it. Let us help you make this the hunt of a lifetime and one you will remember forever. Give us a call to discuss your options once you have a tag or call us before you apply and we will help you get put in for an area that meets your expectations.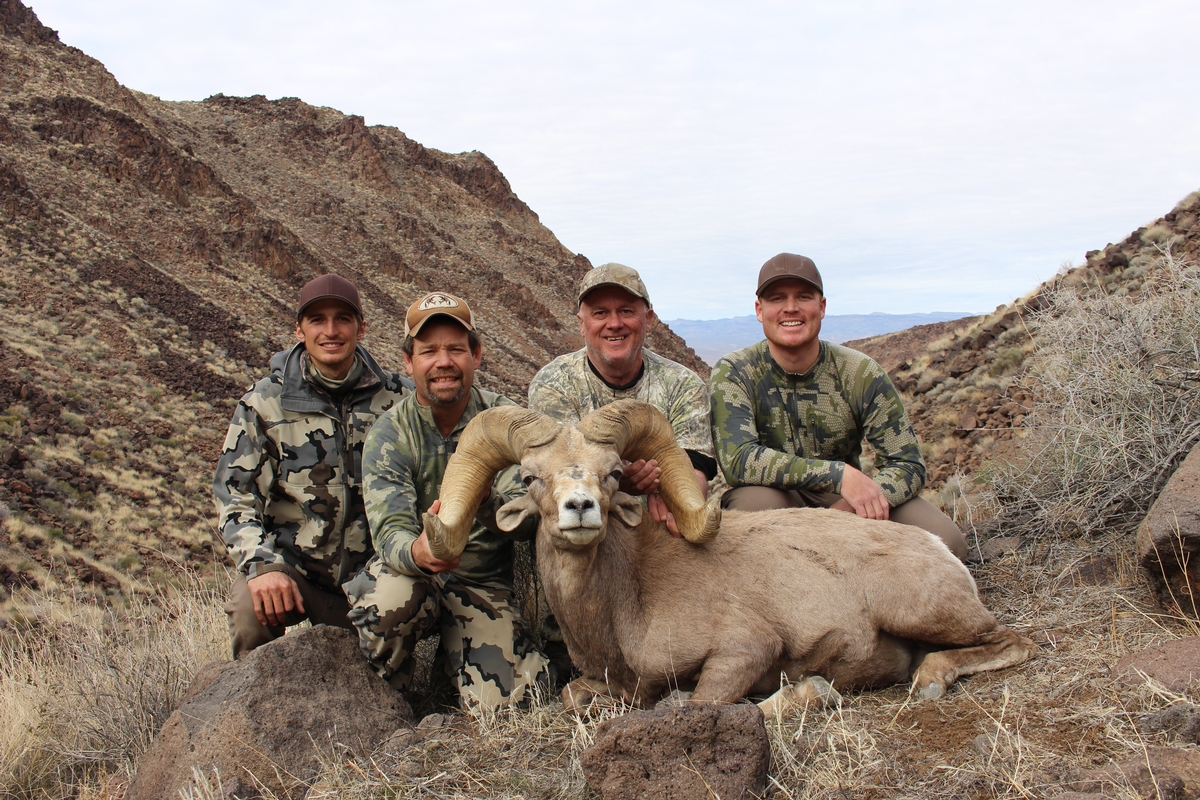 California Bighorn Sheep Hunts
California bighorn sheep tags are one of the hardest tags to draw in North America and we can help you turn your tag of a lifetime into the hunt of a lifetime. These hunts are special and your hunt can be customized any way you like, just give us a call and we can discuss your options. We will do lots of scouting prior to your arrival and that's our key to success. Some of these hunts can require a lot of hiking so getting in the best shape you can is very helpful but we can also find rams that aren't so hard to get at in some units. Call us before you apply and we can help you get put in for a unit that is right for you.
In California we guide for desert sheep in Zone 1 (The Marble/Clipper Mountains), Zone 2 (Kelso Peak/Old Dad Mountains), Zone 3 (Clark/Kingston Mountains), Zone 4 (Orocopia Mountains), Zone 5 (San Gorgonio Wilderness), Zone 8 (South Bristol Mountains) and Zone 9 (Cady Mountains).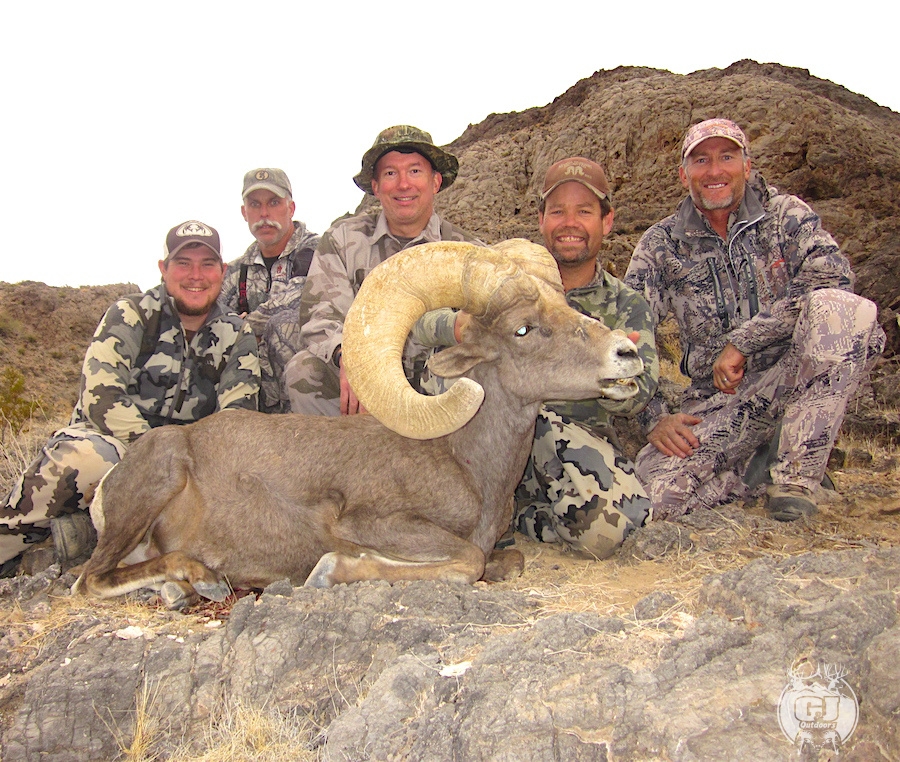 Bighorn Sheep Rates
These are customized hunts. Please call for pricing at (530) 263-0492 (cell number) or contact us via email.
You must be drawn for these hunts or you can buy a heritage tag (Governor's tag). The application deadline is April. Season runs November and December for desert bighorn sheep and September and October for California bighorn sheep.
The cost of your hunt includes meals and accommodations. Prices do not include Nevada hunting license, tag or guide gratuities.
50% nonrefundable deposit required for booking
View G&J Outdoors photo gallery for current and past bighorn sheep hunting results and client success.
Bighorn Sheep Hunting Photos Gallery