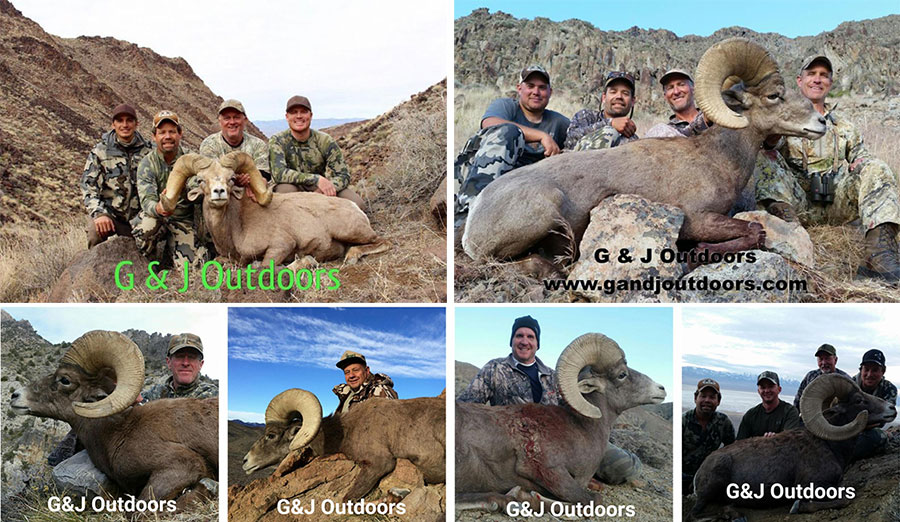 Hello Everyone,
We had another great sheep season in 2015 with all 6 of our clients taking rams and maintaining our 100% success rate. We have never had a sheep hunter go home unsuccessful.
This year we had a California bighorn and 4 desert sheep hunters in Nevada and 1 desert sheep hunter in California.
1. John - Nevada California Bighorn
John D. took this 167 inch California bighorn in Nevada with us to complete his Grand Slam. It was the third biggest California bighorn taken in Nevada out of 63 tag holders this year according to the NDOW checkouts. Congratulations John.
2. Tom - Nevada Desert Sheep
Tom G. took this ram in unit 182 that green scored 172 7/8 and had a 39 7/8 inch horn. It is the biggest ram ever taken in unit 182 according to the biologist.
3. Bob - Nevada Desert Sheep
Bob S. took his first ram with us this year after watching a group of rams butt heads for several minutes.
4. Jerry - Nevada Desert Sheep
Jerry S. took this ram in unit 213.
5. Scott - Nevada Desert Sheep
Scott B. completed his Grand Slam with a nice desert ram. Congratulations Scott.
6. Richie - California Desert Sheep
Richie R. took this awesome Boone and Crockett desert ram in California's zone 1 (Marble/Clippers).
Congratulations to everyone and we all look forward to another great year next year. If you aren't applying for sheep I would recommend that you start.
You can take a look at our bighorn sheep page more information or give me a call on my cell phone listed on the contact page. If anyone is interested in purchasing a sheep tag let me know ASAP. A couple of tags will be sold at auction this week at the sheep show in Reno. Take care and I hope you all have a good 2016.
Posted in: Sheep Hunting