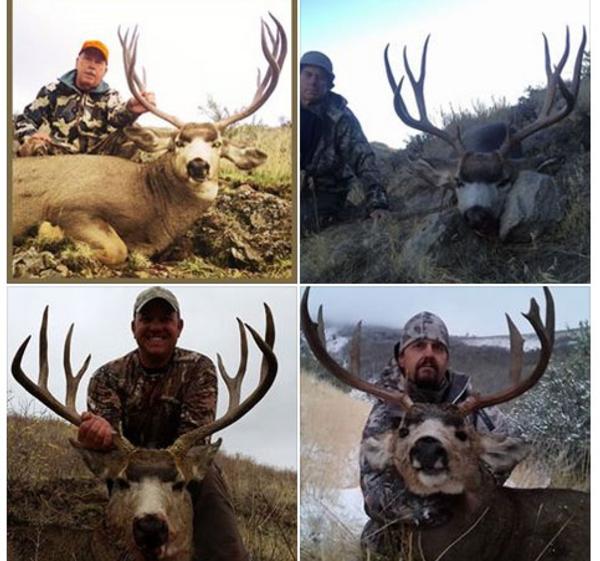 Hello Everyone,
I just returned from 4 months of guiding hunters in Nevada and California and will be sending out our end of the year wrap ups about all the hunts we did.
This year in Nevada we had 8 mule deer hunters and we were 100% success for the first time in quite a few years. All 8 of our hunters took bucks and the quality was definitely better than the last 4 years due to the spring and early summer rains we finally got. Here are a few of the bucks clients took in 2015.
Scott R. took this buck that scored 186 inches while only being a 3 point on his right side. Scott drew this tag with no points in the nonresident guide draw.
Dan H. took this real heavy buck with extra points. Unfortunately he broke a tine after he shot him.
Dennis H. took this 5x5 on the first day of his hunt.
Randy L. took this 4x4 in the early season.
Eric Bjorlin took this 4x4 on the first day of his hunt.
Dan R. took this buck on a very cold day in Nevada.
I am currently booking deer hunts for the 2016 nonresident guide draw. If you are a nonresident of Nevada and want to hunt with an outfitter this will increase your odds of drawing by four or five times. I have had clients draw 5 years in a row and one year I had 19 out of 22 clients draw deer tags. If you are interested let me know. I have to apply for you. You cannot apply for this special drawing. The application deadline is March 1 but you want to get in touch with me before then. More information can be found at our photo gallery and see bucks from previous years.
Posted in: Mule Deer Hunting, Big Game Hunts