Trophy Roosevelt Elk Hunting Guide & Outfitter
We have landowner tags for Roosevelt elk on two different ranches. These hunts used to be public draw hunts and we now have exclusive access to these areas and tags. One ranch is 32,635 acres and the other is 109,367 acres. Our clients have taken several Boone and Crockett Roosevelt elk off these hunts and they are very limited. These hunts are not cheap, but should allow our clients a great opportunity to hunt Roosevelt elk during the rut with a very good chance at taking a record book bull. Both of these hunts have had Roosevelt elk in the mid to high 360s taken off them in the past. The season is the month of September during the rut and you can hunt with any weapon.
In California we guide the Northwestern hunt for Roosevelt elk and we have landowner tags each year that you can purchase. Our Roosevelt elk hunts are what we are known for. Nobody has taken more record book bulls for their clients in California than we have. We have had four clients take bulls that would qualify for the top 100 all time in the Boone and Crockett record book. These hunts take place in the northwestern corner of California and are during the rut. Hunts typically run 5 to 7 days and the country is very brushy and as such our clients get a lot of shots under 50 yards. Walking and calling is the preferred method here but sometimes we can glass one up and stalk him. If you are looking for a world class Roosevelt elk hunt, you have come to the right place.
All of our California Roosevelt elk hunts are done on private ranches in Northwestern California. Our clients have taken 20 Boone and Crockett Roosevelt elk with us, more than any other Roosevelt elk outfitter in the state. Our Roosevelt Elk hunts are all done in September during the rut and as such most of the bulls we take are called in and shots are taken at close range. Sometimes we can glass elk but most of the time we will be walking and calling. Our success rate is over 90% and we have never had an unsuccessful archery Roosevelt elk hunter.
The application deadline for California is the end of May. The rates quoted below for your 6 day California hunt include meals and lodging. Season dates are August through October.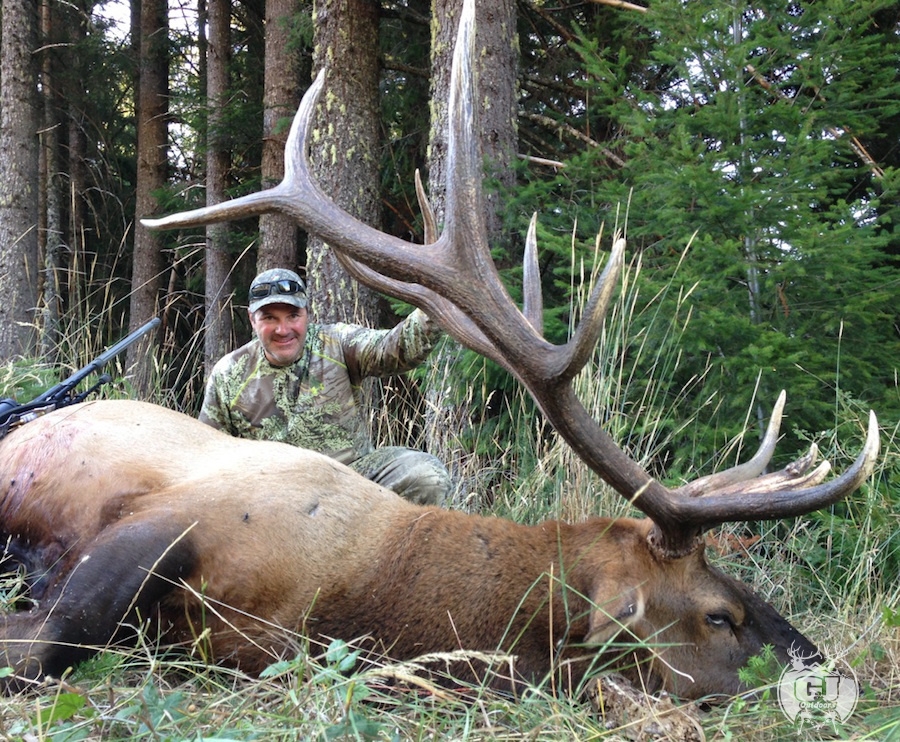 Hunting Methods
You can hunt with a rifle, muzzle loader, or bow on our Roosevelt elk hunts, they are any weapon hunts. You can start with a bow and switch to a gun if that is what you choose to do.
Dates & Rates
Landowner Tag Hunts - September
Northwestern Hunt 355 - September
Call for pricing Price does not include state license and tag fees or guide gratuities.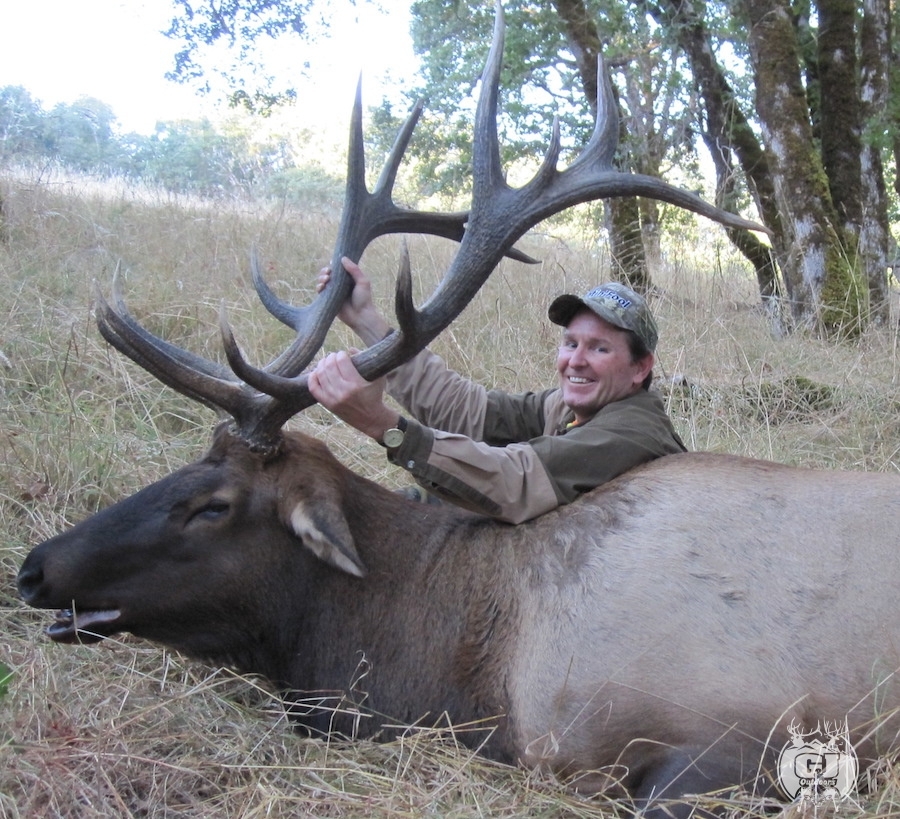 Secure Your Roosevelt Elk Hunt
Application Service
While we don't run an application service we are always more than willing to help you apply for a Roosevelt elk tag in California. If you are a resident your odds of drawing a tag are a lot better since California only gives up to one nonresident elk tag. If you are applying you want to apply for the Northwestern California bull hunt code 355. One way to beat the drawing system is to buy one of our landowner Roosevelt elk tags and then you are guaranteed to go on a hunt.
Deposit
We require a minimum of a 50% deposit on all of our Roosevelt elk hunts.
View G&J Outdoors photo gallery for current and past roosevelt elk hunting results and client success.
Roosevelt Elk Hunting Photos Gallery